loading video...
Sagri
Sociedade Agrícola, SA
Situated in the vicinity of Serpa, SAGRI's estates belong to the same family since the third quartile of the XIX century and had for the last hundred years been used for cereals planting and harvesting (non-irrigated dry crops) and sheep raising.
During the revolutionary period that followed April 25, 1974 the land was occupied in totality for some four years and, partially during eleven years.
After the legal reinstatement of the owners, there was a significant investment to replace the productive infrastructure for cattle breeding and the machinery for planting and harvesting of cereals that had been completely destroyed.
With the founding of SAGRI in 1990, part of the land was irrigated using ponds and borehole drilling for water supplies; these irrigated areas were used for cultivating cereals and beet which became the principle activity. As for livestock farming it was bovine instead of sheep.
In 1999 SAGRI becomes a joint-stock company and the irrigated areas were used for new cultures, 30 hectares of vineyard and 45 hectares of new olive groves (1 hectare=10,000 square metres).
As from 2010 the extended Alqueva irrigated areas reached Serpa, which meant that there were new investments that had to be made by SAGRI, developing new areas and irrigation systems.
Santa
Justa / Barrocão Estates
Plantation of Intensive Olive Grove, sprinkler irrigated Oilseed and Cereal areas, Vineyards, Bovine Cattle Grazing areas.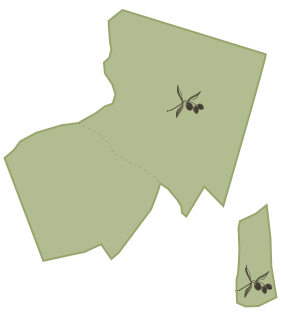 Santa
Maria / Melrinas Estates
The Santa Maria, Melrinas Estates are located some 10kms from the Santa Justa, Barrocão Estates, and is dedicated exclusively to Intensive Olive Grove which covers about 140 hectares.
What we do
Responsible and Sustainable Agriculture
Of the 700 hectares that SAGRI presently owns, approximately 90% is irrigated, of which two-thirds is drip irrigation and one-third sprinkler systems (mainly pivots).
The permanent cultures are mainly covered by drip-irrigation, 360 hectares of intensive olive grove with about 130,000 olive trees and 40 hectares of white and red grape vines.
It should be pointed out that in the olive groves there are four olive varieties (for canning and for olive oil production): cobrançosa, arbequina, manzanilha and frontoio. We thus try to satisfy the demand for both the local and the international markets of olive cultivation
The seasonal crops, which are sprinkler irrigated, are mainly for oilseeds and cereals, which are marketed locally and exported to other countries.
About 10% of the SAGRI area which is not irrigated has holm oak trees and is for bovine cattle grazing. There are specific areas for seedbeds for producing fodder for feeding our cattle which is satisfied by the production in all our estates.
SAGRI is determined to maintain good agricultural practices which have always guided their activities in preventing erosion of the land and producing high quality and safe products for the consumer.
We practice a responsible and sustainable agriculture which we intend to be followed by future generations, as been passed down to us from the past four generations.